The Hip Hop Festival Against War and Occupation
is being organized by Mobilization Against War and
Occupation (MAWO), a grassroots anti-war / anti-
occupation coalition. MAWO is part of the growing
international movement against the war and occupation
of Iraq. Beginning with the Iraqi resistance and
stretching all around the world, this movement has
taken on all forms and means of struggle as part of
the overall fight for self-determination against war
and occupation.


Since forming in October 2003, MAWO has
organized nearly constant events and activities
against the war and occupation. This work has included
demonstrations, public forums and conferences and
also, increasingly, cultural work through organizing
monthly music events and an incredibly successful
annual anti-war film festival.

Because of the tremendous success of thiscultural-
resistance building work, MAWO is nowexpanding
our merging of cultural events and theanti-war /
anti-occupation movement with a Hip HopFestival
Against War and Occupation June 8th to 12th.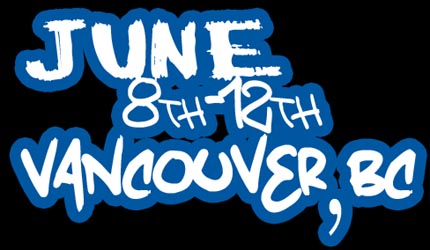 SCHEDULE of EVENTS
---
ALL FREE EVENTS!
WEDNESDAY, June 8th
VOICES of the WORLD AGAINST WAR & OCCUPATION!
OPENING NIGHT! @ SONAR (66 Water St. - Vancouver)
FREE!

Doors open at 8pm, Show begins at 9pm


SIGNIA - Internationally renowned Punjabi-influenced hip-hop crew

NDIDI CASCADE - Local independent hip-hop sensation

SUNDAY SCHOOL DROPOUTZ - Manik, Os12, and Sichuan

SYCK SENSE - includes DJ Doolz, MC Practical, and CAP C

OSO and PABLUCCI - Local Latin Hip Hop MCs!!

GEMINEYE - Local independent conscious hip hop

+ PLUS ...DJ's Ted D and Dani B!


THURSDAY, June 9th
STOP THE WAR ABROAD and AT HOME!
Intimate Nite @ EL COCAL (1037 Commercial Dr. - East Van)

Doors open at 7pm, Show begins at 8pm (ALL AGES!)


ILLA BROWN - Local MC / hip hop host, the backbone of Vancity

SUNDAY SCHOOL DROPOUTZ - Manik, Os12, and Sichuan

GHOS FIENZ - Van City party hip hop at its best

OKALANI - Indigenous hip-hop and soul singer, performing solo

INFLUENTS - Local anti-imperialist MC

CHADIO with AZREAL - Union sponsored unreal hip hop crew

DJ EXCEDE - Local DJ sensation

FRIDAY, June 10th
WE'RE YOUTH! WE'RE STUDENTS! -- WE'RE ANTI-WAR!!
All Ages show @ Edmonds Community Center
(7282 Kingsway st. - Burnaby)

Doors open at 6pm, Show begins at 7pm (ALL AGES!)


LADY SINCERE - Indigenous hip-hop artist and traditional singer

PLATINO LATIN PRODUCTIONS (PLP) - Local Latino hip-hop crew!

SUNDAY SCHOOL DROPOUTZ - Manik, Os12, and Sichuan

BURNABY NORTH HIGH SCHOOL BREAKDANCE CREW - High school break

dance crew how can you go wrong?

MAIN OFFENDERS - Notorious East Van Hip Hop!

GEMINEYE - Local indie conscious hip-hop

DJ DOOLZ - To make you move and groove, part of Syck Sense

+ PLUS ... - Breakdancing, spoken word, and door prizes!

SATURDAY, June 11th
ALL PEOPLES - ALL DAY - for the SELF-DETERMINATION of ALL OPPRESSED NATIONS!
OUTDOOR SHOW @ Grandview Park(Commercial Dr - East Vancouver)

FREE - OUTDOOR SHOW - 12pm-6pm!


THREAT FROM OUTER SPACE - Vancouver's independent hip-hop at its best

PLATINO LATIN PRODUCTIONS (PLP) - Local Latin hip-hop crew!

BRITANNIA HIGH SCHOOL BREAK DANCE CREWS - High school break

dance heroes on their own turf

SPOKES - Reverse Priorities member on the back of his new solo album, 'Driven'

SKETCHBROS - the most urgent voices in BC Hip Hop - Georgia Strait

EMOTIONZ - Van City hip hop heavy staple MC

GENETICS - Hip Hop young women trio

MILKY WAY TRAVELERS - Live, chill, hip hop and soul

TAPWATER - Runnin with Redcat records, local hip hop crew

SUNDAY SCHOOL DROPOUTZ - Manik, Os12, and Sichuan

AZREAL/ASPIRE - Union sponsored Hip Hop heads

DJs - DJ Rhek One, Helpcomputer, DJ Kid knowledge & Hayze, DJ Dani B, DJ Doolz

+ PLUS ... - Check out the display for anti-war GRAFFITI!

SUNDAY, June 12th
"HIP-HOP as a WEAPON AGAINST WAR & OCCUPATION"
Free Public Forum @ The Britannia Community Center
3:30pm - 6pm, 1661 Napier St - East Vancouver


MANKIK 1DERFUL - Local Indigneous MC and member of 'Sunday School Dropoutz' and

the Haida Council on the rise of Hip Hop as a means of resistance on Indigneous reservations

across Canada

AARON MERCREDI - Redwire Native Youth Media and Youth Third World Alliance

on the emergence of Hip Hop as resistance in Palestine and throughout the third world.

NICOLE BURTON - Mobilization Against War and Occupation (MAWO), on the reasons for

this festival and the important of the merging of the anti-war movement and hip hop

+ PLUS ... - Hip Hop music videos from around the world





For more information about the HIP-HOP Festival Against War and Occupation,
Call: (778) 889-4761 or e-mail: info@mawovancouver.org